Project finished in 2016 - AFTER in 2021
AFROBIODRIVERS
African biodiversity dynamics: interactions between ecological processes and conservation actions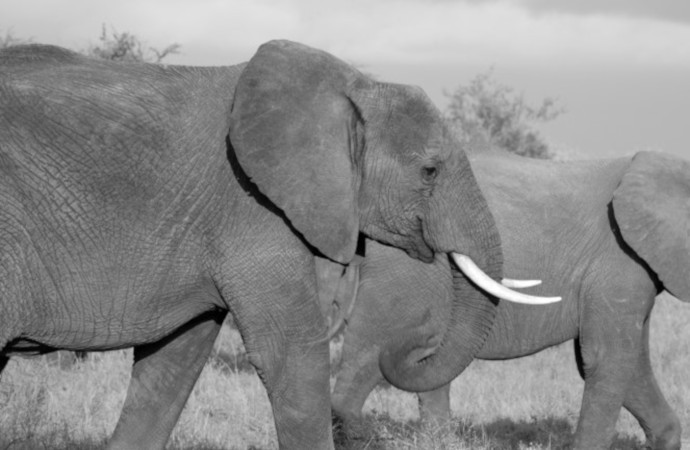 While Africa has been home to exceptional biodiversity so far, the proven decline of its large, iconic mammals represents a significant ecological and economic threat to most countries of the continent. The AfroBioDrivers project provides tools to better understand and anticipate these declines in order to put in place sustainable protection solutions.
Mammal populations do not move in the same way across regions and countries. In southern Africa, after spectacular extinctions in the 19th century, the effectiveness of the reintroduction and protection measures put in place has led to an increase in the numbers of emblematic species, particularly white rhinoceros and elephants, as well as many species of antelopes. Conversely, in other regions these populations are experiencing declines, particularly in East Africa and West Africa, where the situation seems to be the most worrying. While there are a lot of data in sub-Saharan Africa, those for Central and West Africa are scattered, heterogeneous and have never been published in detail. The aim of the AfroBioDrivers project was to fill this gap by analyzing the profiles and processes that led to changes in the status of large mammals in Central and West Africa. This would allow an assessment of the influence of various ecological and anthropogenic factors on these populations, in order to be able to contribute effectively to the monitoring and the policy of management of the biodiversity in
these regions. 
To do this, the AfroBioDrivers project set itself the following objectives:
to gather all existing data and set up a database that can serve as a monitoring and management tool,
to improve methods for analyzing spatial and temporal trends of populations,
to identify the main drivers of change, both ecological and anthropogenic, by analyzing and modeling long-term trends, and
to develop decision support models for conservation.

researchers
PI:
Hervé FRITZ – CNRS, UCB Lyon (France)
Postdoc:
Fabrice HIBERT – CNRS Lyon (France)
ouvrir/fermer
Participants:
Nadia BAELAÏDI – CNRS Paris (France); Luigi BOITANI – University of Rome (Italy); Justin BRASHARES – University of California (USA); Patrick DUNCAN – (CNRS University of la Rochelle (France); Jean-Michel GAILLARD – CNRS Lyon (France); Souleymane KONATE – University of Abobo-Adjamé (Ivory Coast); Jean-Dominique LEBRETON – CEFE, CNRS Montpellier (France); Joseph OGUTU – University of Hohenheim (Germany); Norman OWEN-SMITH – University of the Witwatersrand (South FArica); Olivier PAYS – University of Angers (France); Roger PRADEL – CEFE,CNRS Montpellier (France); Daniel RAKOTONDRAVONY – University of Antananarivo (Madagascar); Paul SCHOLTE – GIZ (Cameroun).
AfroBioDrivers brings together experts in mammalian biology, evolutionary biology, biometrics, conservation biology and data analysis.

Publications
[01] Mallon DP, Hoffman M, Grainger MJ, Hibert F, van Vliet N & McGowan PJK (2015) An IUCN situation analysis of terrestrial and freshwater fauna in West and Central Africa. Occasional Paper of the IUCN Species Survival Commission (No. 54), Gland, Switzerland and Cambridge, UK, 162p. doi: 10.2305/IUCN.CH.2015.SSC-OP.54.en.