Project finished in 2019 - AFTER in 2020
ACTIAS
Global patterns of insect diversity, distribution and evolutionary distinctness – What can we learn from two of the best-documented families of moths?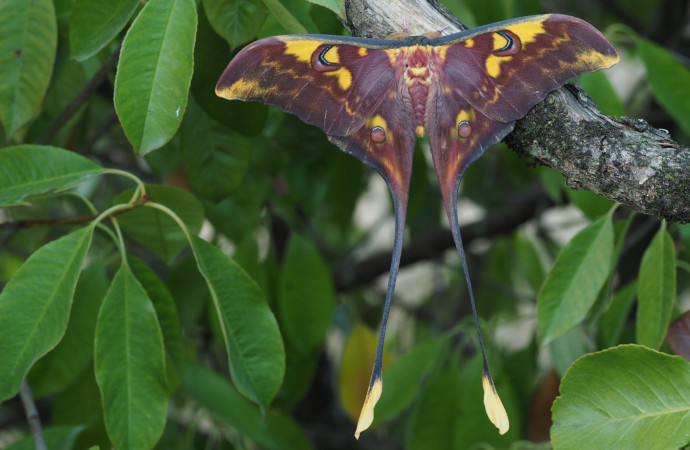 © Rodolphe Rougerie
The ACTIAS project stemmed from the observation that large-scale studies of spatio-temporal patterns of terrestrial biodiversity are biased toward vertebrates and plants, leaving insects largely untouched at that scale. Yet, insects are key organisms in ecosystems and their species and populations are severely impacted by global changes.
Large-scale biodiversity studies have built on the outstanding development in the recent past of infrastructures, methods and tools to manage and analyze very large datasets. "Big Data" analyses stimulated invaluable advances in the field of macroecology, biogeography and evolutionary biology, and have fueled better informed conservation policies in a world that we unfortunately now understand as entering what has been termed its "sixth extinction" period.
Our project aimed at:
erecting a set of two families of moths – Saturniidae and Sphingidae – as the first models for large-scale diversity studies in insects,
carrying out the first large-scale investigation of macroecological patterns and of the processes governing them,
and ultimately at informing the fate of insect diversity and help design adapted conservation strategies.

researchers
PI:
Rodolphe ROUGERIE – MNHN (France)
Postdoc:
Liliana BALLESTEROS-MEJIA – MNHN (France)
ouvrir/fermer
Participants:
Monica ARIS – MNHN (France); Jan BECK – University of Basel (Switzerland); Thibaud DECAËNS – University of Montpellier, CEFE (France); Paul D. N. HEBERT – University of Guelph (Canada); Ian J. KITCHING – Natural History Museum (UK); Sébastien LAVERGNE – CNRS, LECA (France); Carlos LOPEZ‐VAAMONDE – INRAE, URZF (France); Hélène MORLON – CNRS, ENS (France); Jérôme MURIENNE – CNRS, University Paul Sabatier (France); Stuart PIMM – Duke University (USA); Jean-Yves RASPLUS – INRAE (France); Sujeevan RATNASINGHAM – University of Guelph (Canada).
ACTIAS brings together experts in biogeography, phylogeography, geographic range modelling, macroecology, ecology, systematics, evolutionary biology, conservation biology, biostatistics and mathematical modelling.
publications
[08] Toro-Vargas DM, González C, Rougerie R & Amarillo-Suárez AR (2023) Characterization of morphological and biological aspects of venomous caterpillars of the genus Lonomia Walker (Lepidoptera: Saturniidae) in Colombia. PLoS ONE, 18, e0285010. DOI: 10.1371/journal.pone.0285010.
[07] Correa-Carmona Y, Rougerie R, Arnal P, Ballesteros-Mejia L, Beck J, Dolédec S, Ho C, Kitching IJ, Lavelle P, Le Clec'h S, Lopez-Vaamonde C, Martins MB, Murienne J, Oszwald J, Ratnasingham S & Decaëns T (2022) Functional and taxonomic responses of tropical moth communities to deforestation. Insect Conservation and Diversity, 15, 236–247. DOI: 10.1111/icad.12549.
[06] Li X, Hamilton CA, St Laurent R, Ballesteros-Mejia L, Markee A, Haxaire J, Rougerie R, Kitching IJ & Kawahara AY (2022) A diversification relay race from Caribbean-Mesoamerica to the Andes: Historical biogeography of Xylophanes hawkmoths. Proceedings of the Royal Society B: Biological Sciences, 289, 20212435. DOI: 10.1098/rspb.2021.2435.
[05] Decaëns T, Bénéluz F, Ballesteros-Mejia L, Bonilla D & Rougerie R (2021) Description of three new species of Automeris Hübner, 1819 from Colombia and Brazil (Lepidoptera, Saturniidae, Hemileucinae). ZooKeys, 1031, 183–204. DOI: 10.3897/zookeys.1031.56035.
[04] Jiménez-Bolívar AC, Prada-Lara L, St Laurent RA & Rougerie R (2021) The Wild Silkmoths (Lepidoptera: Bombycoidea: Saturniidae) of Colombia: a database of occurrence points and taxonomic checklist. Zootaxa, 5081, 151–202. DOI: 10.11646/zootaxa.5081.2.1.
[03] Ballesteros-Mejia L, Arnal P, Hallwachs W, Haxaire J, Janzen D, Kitching IJ & Rougerie R (2020) A global food plant dataset for wild silkmoths and hawkmoths and its use in documenting polyphagy of their caterpillars (Lepidoptera: Bombycoidea: Saturniidae, Sphingidae). Biodiversity Data Journal, 8, e60027. DOI: 10.3897/BDJ.8.e60027.
[02] Kitching IJ, Rougerie R, Zwick A, Hamilton C, St Laurent R, Naumann S, Ballesteros-Mejia L & Kawahara A (2018) A global checklist of the Bombycoidea (Insecta: Lepidoptera). Biodiversity Data Journal, 6, e22236. DOI: 10.3897/bdj.6.e22236.
[01] Basset Y, Lamarre GPA, Ratz T, Segar ST, Decaëns T, Rougerie R, Miller SE, Perez F, Bobadilla R, Lopez Y, Ramirez JA, Aiello A & Barrios H (2017) The Saturniidae of Barro Colorado Island, Panama: A model taxon for studying the long-term effects of climate change? Ecology and Evolution, 7, 9991–10004. DOI: 10.1002/ece3.3515.