November 2020 I News I Cesab I Other subjects
[FRB-CESAB] Second edition of the training course "Data Toolbox for Reproducible Research in Computational Ecology"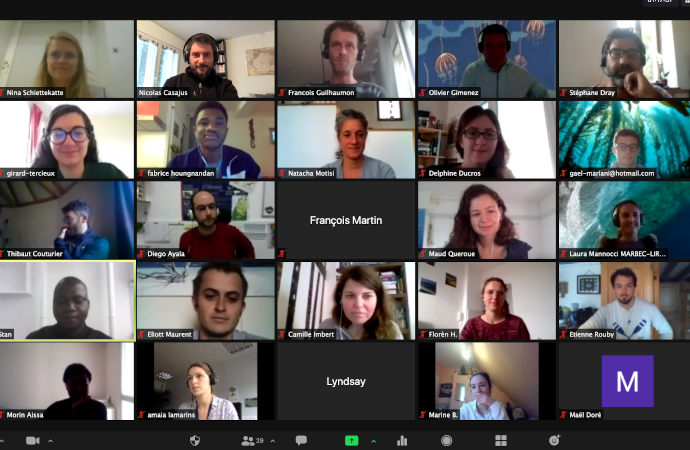 Some participants from the training course in 2020
The FRB's Center for the Synthesis and Analysis of Biodiversiry (CESAB) and the GDR EcoStat organised the second edition of the training course Data Toolbox for Reproducible Research in Computational Ecology online. The training took place from the 2nd to the 6th of November 2020. 
23 students, engineers and researchers from all over France were able to attend this training course online. 
Nicolas CASAJUS (FRB-Cesab), Stéphane DRAY (CNRS LBBE), Olivier GIMENEZ (CNRS Cefe), François GUILHAUMON (IRD Marbec), Nina SCHIETTEKATTE (EPHE Criobe) presented the essential tools for reproducible research (git/GitHub, rmarkdown, drake, R packages, etc.). Participants were also able to put into practice the knowledge acquired at the beginning of the training through projects in sub-groups on the Thursday and the Friday. 
Subscribe to the newsletter of the FRB and its CESAB to be kept informed about the next edition of the training course.