Improved transnational monitoring of biodiversity and ecosystem change for science and society
Improved transnational monitoring of biodiversity and ecosystem change for science and society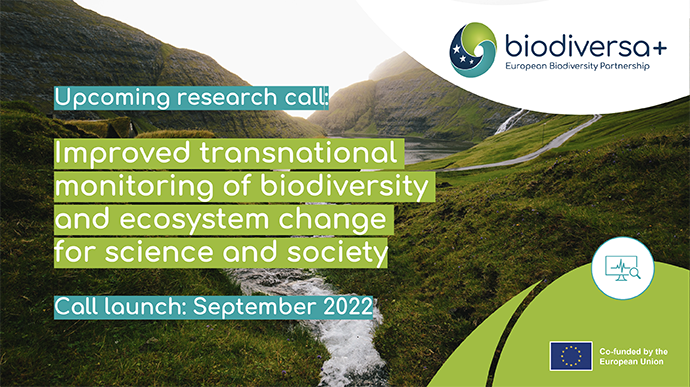 The upcoming Biodiversa+ call for transnational projects "Improved transnational monitoring of biodiversity and ecosystem change for science and society" will be officially launched on September 8th, 2022.
It will cover the 3 non-mutually exclusive research themes:
Innovation and harmonisation of methods and tools for collection and management of biodiversity monitoring data
Addressing knowledge gaps on biodiversity status, dynamics, and trends to reverse biodiversity loss
Making use of available biodiversity monitoring data
A 2-steps application procedure will include the online submission (in English) of pre-proposals early November 2022 and full proposals early April 2023 for evaluation by an independent committee based on the following criteria:
Step 1: fit to the scope of the Call, novelty of the research, and impact
Step 2: scientific excellence, quality and efficiency of the implementation and impact (including expected policy/societal impacts and stakeholder engagement).
Research consortia will have to include teams from a minimum of 3 countries participating in the Call, including 2 from EU Member States or EU Associated Countries.
Detailed instructions regarding the submission procedure, the eligibility and evaluation criteria etc. will be published at the official launch of the Call early September 2022.
Further information and resources
Partners of the call
A global budget of over 40 million euros has been provisionally reserved for the call and at this stage, the following 33 countries have expressed a preliminary interest in participating in the call: Austria, Belgium, Brazil, Bulgaria, Czech Republic, Denmark, Estonia, Finland, France, Germany, Greece, Hungary, Ireland, Israel, Italy, Ivory Coast, Latvia, Lithuania, Moldova, Morocco, Norway, Poland, Portugal, Romania, Slovakia, Slovenia, South Africa, Spain, Sweden, Switzerland, Taiwan, The Netherlands, Tunisia and Turkey.
The updated list of potential participating countries will be published on the Biodiversa+ website.