September 2022 I News I Cesab I Biodiversité et réglementation
[Press release] A new method to assess ecosystem vulnerability and protect biodiversity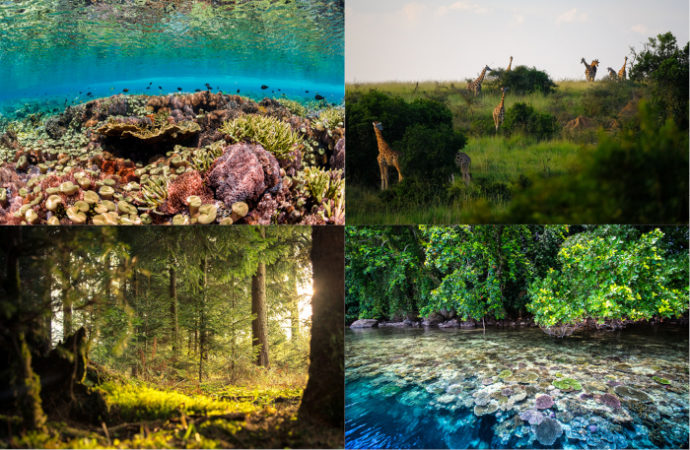 Examples of vulnerable ecosystems: coral reefs, savannah, temperate forests, mangroves.
As states committed to creating protected areas on at least 30% of their land and sea territories by 2030, an international team of researchers has developed a new tool to quantify the vulnerability of species communities. Combined with future ecosystem risk assessment studies, this tool should help decision-makers identify management priorities and guide protection efforts where they are most needed. Setting appropriate conservation strategies is a challenging goal, especially because of the complexity of threats and responses from species, and budget limitations. To overcome this challenge, the team of scientists, including researchers from CNRS, IFREMER, IRD and international organizations, has simulated the response of species communities to a wide range of disturbances, providing a robust estimation of their vulnerability, in a world where future threats are diverse and difficult to predict.
Quantifying the vulnerability of biodiversity is crucial to safeguard the most threatened ecosystems. Published in Nature Communications on the 1st of September 2022, this new tool stands out from previous work as it estimates the degree to which functional diversity, that is biodiversity and associated ecosystem functions, is likely to change when exposed to multiple pressures. It was developed as part of two projects funded by the French Foundation for Research on Biodiversity (FRB) within its Centre for Biodiversity Synthesis and Analysis (CESAB) and with the support of Electricité de France (EDF) and France Filière Pêche (FFP).